ASCO Clinical Cancer Advances 2020
On February 4th, the World Cancer Day, the American Society of Clinical Oncology (ASCO) published the 15th annual report on the progress against cancer (Markham MJ, et al. J Clin Oncol 2020). Below is the summary of this report.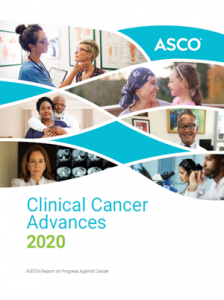 Cancer is one of the biggest health care challenges in the world today. Thanks to investment and progress in cancer research, people are now living longer with this disease than ever before. Clinical Cancer Advances is an annual report by ASCO that highlights the most impactful research advances of the past year and identifies cancer research priorities to accelerate progress against cancer. This report was developed under the supervision of more than 20 experts in clinical oncology, cancer prevention, quality of care, health disparities, and tumor biology. The editors reviewed scientific publications, primarily from October 2018 to September 2019.
Advance of the Year: Refinement of Surgical Treatment of Cancer
The emergence of novel systemic therapies is significantly changing the role of cancer surgery. ASCO's selection recognizes the effectiveness of these treatments in reducing the amount of surgery, and even the need for it, while increasing the number of patients who can undergo surgery when needed. In particular, considerable advances occurred in neoadjuvant therapies (those given before surgery). The most impressive research successes were seen in systemic therapies for pancreatic and kidney cancers, as well as melanoma, reshaping the role of surgical treatment for patients with these tumor types.
Neoadjuvant combinations of immunotherapies pave the way for more successful less-invasive surgery for patients with advanced melanoma.
Targeted therapy provides alternative to immediate surgery in treatment of renal cell carcinoma.
Upfront treatments make surgery possible for more patients with pancreatic cancer.
Additional Major Advances
Long-term data show that vaccines against human papillomavirus are reducing cervical cancer risk in real-world settings.
Biomarker-driven treatment approach opens the door to personalized care for metastatic pancreatic cancer.
Combinations of different types of therapies suggest that survival can be extended without increasing toxicity.
Growing number of targeted therapies are offering hope for more patients with difficult-to-treat cancers.
Research Priorities to Accelerate Progress
The 2020 ASCO's research priorities address unmet needs or help fill a knowledge gap in areas critical to improving patient care and outcomes, and clinical decision-making:
Identify Strategies That Predict Response and Resistance to Immunotherapies.
Limit Extent of Surgery by Optimizing Systemic Therapy.
Increase Precision Medicine Research and Treatment Approaches in Pediatric and Other Rare Cancers.
Optimize Care for Older Adults With Cancer.
Increase Equitable Access to Cancer Clinical Trials.
Reduce the Adverse Consequences of Cancer Treatment.
Reduce Obesity's Impact on Cancer Incidence and Outcomes.
Better Identify Premalignant Lesions and Predict When Treatment Is Needed.
The tremendous progress seen in oncology over the past few decades is in large part due to the cancer research support and investment:
27% decline in cancer death rates in the US (since the peak in 1991);
150+ new cancer drugs or indications approved by the US Food and Drug Administration (FDA) since 2006;
2 out of 3 people with cancer now live at least 5 years after diagnosis.
Research funding plays a pivotal role in improving our understanding of how to prevent, diagnose, treat, and even cure cancer.
When we invest in cancer research, everyone benefits.
Source: ASCO's website
---