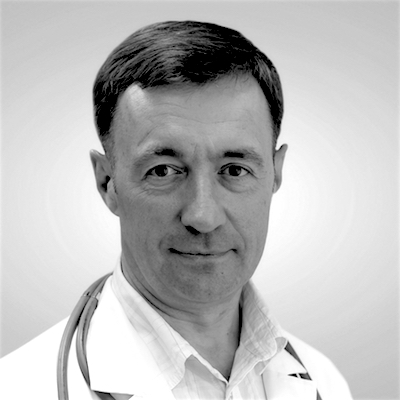 After graduation from the medical faculty of the N.N. Semashko Moscow Medical Stomatological Institute in 1992, and clinical residency in the internal medicine department, Dr. Nosov served as a leading researcher at the Department of Clinical Pharmacology and Chemotherapy of the N.N. Blokhin National Medical Research Center of Oncology. In 2000, he defended his PhD thesis, and in 2012 his doctoral thesis on the novel medicinal options and rational therapeutic approaches in metastatic renal cell carcinoma. Prof. Nosov studied at the Cancer Center in Lyon (France). Currently, he's the head of the Oncology Department for Antitumor Therapy at the Central Clinical Hospital of the Presidential Administration of the Russian Federation.
Prof. Nosov is a Board Member and Chair of the Education Committee of the Russian Society of Clinical Oncology (RUSSCO), Head of the Expert Board for RUSSCO clinical recommendations development. In 2013-2018, he was a member of the scientific advisory board at the Russian Ministry of Education and Science Higher Attestation Commission (medical sciences), since 2016 – expert of the Russian Federal Service for Surveillance in Healthcare.
He has authored more than 70 papers in national and international journals, co-authored chapters in guidelines for clinical oncologists. He is also an editor of the European Society for Medical Oncology (ESMO) recommendations.