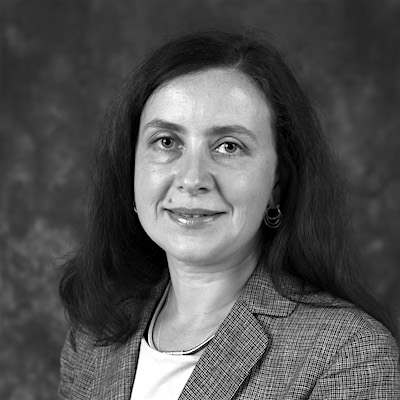 Dr. Katerina Gurova came to Roswell Park Comprehensive Cancer Center from Cleveland BioLabs, where she served as Director of Anti-Cancer Drug Discovery. Before joining Cleveland BioLabs, she worked as a Project Scientist in the Department of Molecular Genetics at The Cleveland Clinic.
Dr. Gurova earned her medical degree from the Sechenov Medical Academy and a doctoral degree in experimental oncology from the Blokhin Cancer Research Center, both located in Moscow, Russia.
Dr. Gurova's research interests are focused on the discovery and development of new anticancer drugs. Specifically, she identified a new class of prospective anticancer agents named curaxins which are capable of simultaneous targeting of several signal transduction pathways that are frequently deregulated in cancer, including p53 and NF-kappaB. Her laboratory at Roswell Park is working on deciphering molecular mechanisms, optimizing therapeutic properties of curaxins and on the development of new approaches to the treatment of hormone-refractory prostate cancer.
Dr. Gurova is a member of the American Association for Cancer Research.
Dr. Gurova has authored several research articles and reviews on the mechanisms of cancer cell death.