2020-02 DARYA BAGDASAROVA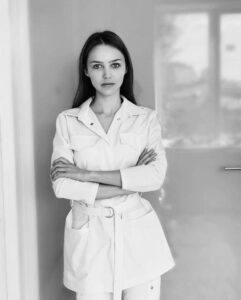 Darya Bagdasarova (P.A. Herzen Moscow Cancer Research Institute – the
branch of the Federal State Budgetary Institution "National
Medical Research Center of Radiology" at the Ministry of
Health of Russian Federation)
​
Project:
The research of multifocal breast biopsy effectiveness in patients with complete clinical response (cCR) after neoadjuvant chemotherapy in order to refuse surgery in complex treatment of breast cancer patients
Funding:
500 000 rubles
Brief Description:
Breast cancer ranks first in the structure of the incidence of malignant neoplasms among women. In 30% of patients, a complete clinical response (no signs of tumor formation according to the data of clinical and X-ray examination) can be detected after a full course of neoadjuvant chemotherapy. That is, after chemotherapy, the tumor "disappeared". According to the ESMO, NCCN, RUSSCO clinical guidelines, the current standard of treatment after neoadjuvant chemotherapy is surgery followed by radiation therapy.
But the question remains, if the tumor completely "disappeared", then what is it to "cut out"? Thus, more and more researchers worldwide raise the question of the refusal of surgical treatment in such cases. However, this requires accurate data on the complete pathomorphological response of the primary tumor after treatment. That is the evidence (histological confirmation) that there are no more tumor cells in the organ. There is no consensus on how to assess the complete clinical response at the preoperative stage. The possibility of using a minimally invasive biopsy of the mammary gland to assess morphological response is being actively studied.
In our proposal, we suggest a method for performing a multifocal biopsy of the primary tumor with a complete radiological clinical response. So, with a minimally invasive procedure, without surgical removal of an organ, it could be possible to prove that these tumor cells are not present. Thus, the patient can be left under surveillance, or chemotherapy or radiation therapy can be continued. This is the second stage of the study.
The main goal of this work is to assess the prediction of a complete pathomorphological response using a minimally invasive procedure. In case of a false-negative result <10%, further study is planned. Namely, conducting a multivariate analysis of a complete clinical and pathomorphological response confirmed by a minimally invasive procedure, a multifocal biopsy of the breast, depending on different factors. And, subsequently, identifying groups of patients whose quality of life could be significantly improved by eliminating surgical treatment.